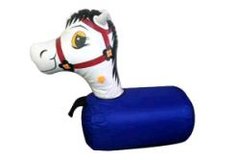 4 Pony Hoppers without the track
Pony Hops without the track
Description: Giddy up!! Race your family, friends, neighbors, classmates or co-workers, the first one to the finish is the winner. Lots of fun and laughs. Excellent for School Field Days! Great for Indoor or Outdoor Events. You will laugh, laugh, laugh!

Add the Safety Cones and create your own Pony Hoppers Derby Race Track or holding pen.

These rent in a group of 4 ponies. There are 4 Medium and 4 small available please let me know in the notes section the sizes you want.