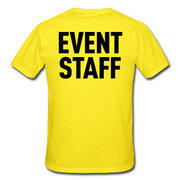 Staff Hours (Per hour)
If you require event staff, please select the number of hours needed multiplied by the number of personal .
(Example 3 hour event that needs 2 staff 1 = 6 staff hours). Events over 4 hours require a extra staff member.
Call the office at 757 689 4273 to make arrangements of for any questions

The total cost for staff will be determined after you call or you reservation is reviewed.